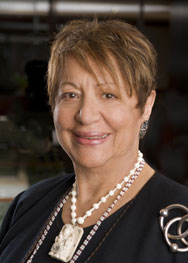 Dr. Maria T Lymberis is a Clinical and Forensic Psychiatrist.
She is a Clinical Professor of Psychiatry at the
Geffen UCLA School of Medicine
, Honorary. She is certified by the
American Board of Psychiatry and Neurology
in both Psychiatry and Child/Adolescent psychiatry. Additionally, she is a graduate psychoanalyst of the
Los Angeles Psychoanalytic Institute
, where she taught for over 20 years as a senior faculty. Her practice includes clinical consultations with adults, families couples, children and adolescents. She practices individual psychotherapy as well as integrated psychotherapy with psychopharmacology.
Since 1988 she has been active as a forensic psychiatrist and has extensive experience performing medico-legal consultations, evaluations and expert testimony in both civil and criminal cases. For over 25 years, she has been involved in psychiatric peer review including as Chair of the Psychiatry Peer Review Committee of the Cooperative of American Physicians, Mutual Protection Trust, a medical malpractice insurance company, and has extensive experience in medical malpractice evaluations and consultations.
In addition starting in the late 1970s, Dr. Lymberis pioneered in Psychiatric Medical Ethics. She Chaired the Southern California Psychiatric Society's Ethics Committee where the first in the nation due process ethics hearings were initiated, participated in the California Senate Task Force on Psychotherapist Patient Sexual Misconduct in 1987 and helped draft the California Consumer Information Bulletin: "Therapy never involves SEX". She is a senior Expert Consultant for the Medical Board of California in a variety of psychiatric cases including sexual harassment & misconduct and fitness for duty evaluations of physicians.
Dr. Lymberis is the founder & president of two non profit organizations: Hellenic American Psychiatric Association (1999) & The Psychiatric Education and Research Foundation (1990).
Dr. Lymberis is Greek born and U.S. educated, first as a foreign student and then as a naturalized U.S. Citizen.